Tonya Harwood, Executive Director
Tonya D. Harwood has been an active part of the arts community in beautiful WNC for over 20 years. After getting a BA in art from the University of Delaware, she has mostly worked as a teaching artist and shared her love for art with students of all ages. Roots + Wings School of Art and Design is where she has worked most of the past ten years, doing both educational and administrative roles, and seeing first hand how art and community go together. She became an artist member at HCAC two years ago and has really enjoyed not only showing her oil paintings in the gallery, but volunteering and being a part of the wonderful arts community in Haywood County. She is thrilled to be HCAC's Executive Director!

Email:
director@haywoodarts.org
Lauren A. Medford, Art & Gallery Manager
Lauren A. Medford is a working artist and a proud native of Waynesville, North Carolina. She holds an A.A.S. degree in Advertising & Graphic Design from Southwestern Community College and a M.F.A. from Western Carolina University. Lauren has been at HCAC since November 2020. "My mediums of choice are printmaking, collage, and fibrous sculpture. I work in themes of camp, fandom, fashion, and Diva sensibilities."

Email:
artist@haywoodarts.org
Danna Kelly Bohnhoff, Volunteer Quilt Trails Studio Coordinator
Danna Kelly Bohnhoff's roots trace back to Canton, North Carolina, a locale where her family has resided for generations. It is in this close-knit community where she spent her formative years, surrounded by the rich history of my lineage. Upon successfully completing her Bachelor's degree in Animal Science at NC State University, she embarked on a journey that took her through various states, exposing me to diverse professional opportunities and experiences. Over a remarkable span of 30 years, she dedicated her service as a city letter carrier for the esteemed United States Postal Service, applying my skills and unwavering commitment to the role. With the culmination of her tenure, she fulfilled a long-standing aspiration and returned to my hometown. Artistic expression has been a constant and cherished aspect of her life. Throughout the years, painting and calligraphy have emerged as her primary focus, nurturing a passion that has evolved into a beloved hobby. She states "I am thrilled to be an essential contributor to the Haywood County Arts Council, actively involved in the creation of captivating barn quilt blocks that embellish our county. These quilt blocks, each boasting intricate designs, weave a captivating trail for all to appreciate the unparalleled beauty of Haywood County."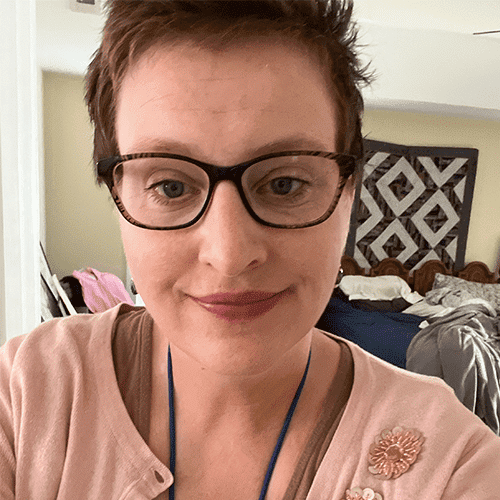 Andrea Lingle, Volunteer JAM Coordinator
Andrea and her husband, Luke, live in the North Carolina mountains with their children. She is passionate about creating space for creativity and imagination. She is less passionate about the ensuing mess. She homeschools her children, and seems to always be contemplating having a really good garden. Andrea is a musician with a background in piano, music theory, children's choirs, and church music. She is also a writer, lay-theologian, and leader for the Missional Wisdom Foundation. Andrea has a Bachelor's of Arts Degree in Music from Furman University and a Bachelor's of Science Degree in Nursing from Duke University. Andrea is thrilled to be a part of JAM because it give her and her children an opportunity to connect to the musical heritage of their mountain home.
The Haywood County Arts Council Board of Directors is made up of a group of passionate volunteers, dedicated to serving the artists in our community. Board members are elected to three-year terms, and cannot serve more than two consecutive terms during their tenure. Board meetings take place on the third Thursday of each month. If you are interested in serving as a member of the HCAC Board of Directors, please
Email: director@haywoodarts.org
Alison Parks, President
Alison, an artist member and active docent volunteer who chairs the volunteer committee, joined the HCAC Board in June 2021. Alison joined the HCAC because she loves art, grew up in a family of artists, and wanted to be an active member of the art community. As a board member, Alison brings organization, finance, and communication skills to HCAC. Her passion is quilting, and she also likes to exercise, enjoy nature, and spend time with family and friends.
Cheryl Summey, Secretary
Cheryl, a native to Haywood County, is on the HCAC Development Committee, is an artist member, sells in our retail gallery, and can often be met sitting at the sales desk volunteering in the gallery. She has a passion for sterling silver and copper fabrication of jewelry, which she designs and creates by hand. Cheryl's roots run deep in these mountains and she has been privileged and blessed to have been born and lived here all her life. Being able to showcase her art and share her love for these beautiful mountains and the people who reside here makes all the hard work worthwhile.
Tim Wise, Treasurer and Finance Committee Chair
Tim has been a music teacher for 30 years serving as Band Director at Tuscola High School since 1993. Now in his second term on the Board, Tim joined HCAC due to his passion for the arts and his desire to connect his students to the arts community. He brings enthusiasm for educating people about the arts and experience in running programs to the HCAC. Tim enjoys gardening, golf, reading, and travel.
Stephanie Kea, Program & Events Committee Chair
Stephanie is a new HCAC Board Member, having just joined in June 2021. She joined HCAC because she wanted to get her art students and NAHS students involved in the community. As a high school art teacher, Stephanie can provide her students with opportunities to be more involved with their local community and also to show off their talents. Stephanie loves to paint, go on hikes with my family, sit on her back porch overlooking the lake and check out coffee shops.
Emily Reason, Gallery Committee Chair
Emily is an HCAC artist member and joined the Board in June 2021. She runs the Professional Crafts Clay program at Haywood Community College. Emily is passionate about arts education. Emily brings not only an in-depth knowledge of the art discipline to the HCAC Board but also expertise in art related business management. She enjoys working in her home studio and taking hikes with her family.
Barbara Brook
Barbara is an artist and instructor and has shared her passion in the arts for over 50 plus years. She has been an active participant in many of the HCAC gallery shows and feels strongly about promoting the arts in Waynesville. Not only an artist member, Barbara also acts as Vice President where she lends her organization and computer skills. Barbara has a passion for painting, gardening, and traveling.
Kathy DeOrnellas
Kathy DeOrnellas and her husband moved to Waynesville in the spring of 2021 after retiring and selling their sheep/alpaca farm in Texas. She previously worked as a private practice psychologist and as a professor in the Psychology department at Texas Woman's University; however, her first love was art - weaving and knitting primarily - and she has returned to the fiber arts since opening a studio in Waynesville. She enjoys working with the HCAC gallery and painting quilt blocks.
Lisa Townsend
Lisa and her husband moved to Waynesville in 2017 and have been making stained glass windows since 2008. Their work is whimsical and the selection of glass with its many textures and colors adds that special MoJo to any home. Lisa enjoys volunteering on the HCAC Gallery Committee and assisting with the installation of the monthly exhibits. Lisa balances her love of creating art with her love of digging in the dirt. She volunteers at the Maggie Valley Community Garden and can be found in her home flower gardens on warm sunny days. Lisa and her husband enjoy hiking and kayaking in western North Carolina.
Cup Harrison
Originally from Louisiana, Cup owned and operated a company focused on technical recruiting in the metals industry. Cup and Harry bought their retirement home in Iron Duff in 2020. During her life, she has always been drawn to the arts of every type. They have collected pieces during their travels domestically and internationally from fiber arts, pottery, jewelry, painting and woodworking. Collecting art feels as though they share a small bit of the creative spirit of the artists. Retiring to Waynesville proved to be a lovely surprise because they knew they would have stunning vistas and four real seasons, but for Cup, to discover the art scene to be so active and full of exceptional talent was a lagniappe experience. It is her hope that her past experiences can be used to help further HCAC's goals and objectives.