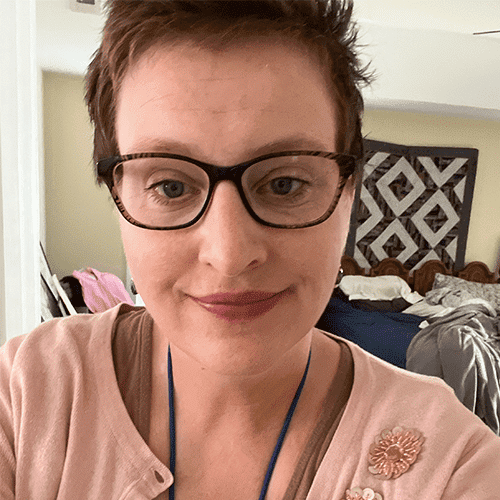 Andrea Lingle, Volunteer JAM Coordinator
Andrea and her husband, Luke, live in the North Carolina mountains with their children. She is passionate about creating space for creativity and imagination. She is less passionate about the ensuing mess. She homeschools her children, and seems to always be contemplating having a really good garden. Andrea is a musician with a background in piano, music theory, children's choirs, and church music. She is also a writer, lay-theologian, and leader for the Missional Wisdom Foundation. Andrea has a Bachelor's of Arts Degree in Music from Furman University and a Bachelor's of Science Degree in Nursing from Duke University. Andrea is thrilled to be a part of JAM because it give her and her children an opportunity to connect to the musical heritage of their mountain home.
Travis Stuart, Instructor
Travis Stuart began playing the banjo as a young teen in Haywood County, North Carolina. He is a respected banjo player and multi-instrumentalist known for his rich style and solid accompaniment. Travis has toured the U.S. and internationally with The Stuart Brothers , Dirk Powell Band, Riley Baugus, The Reeltime Travelers, Martha Scanlan and step dancer Ira Bernstein. Travis learned from old-time masters such Red Wilson, the Smathers Family, Snuffy Jenkins, and Byard Ray. He is dedicated to performing and teaching old-time music. A respected teacher, Travis has taught at music camps around the country and abroad. For the last 13 years he has led the JAM Junior Appalachian Musicians program in Haywood County, North Carolina. Travis has recordings with The Stuart Brothers and has performed on many recordings and films.
Cary Fridley, Instructor
Cary Fridley is an Appalachian singer, bassist, and innovative educator. Her style is rooted in tradition, and has evolved to embrace all styles of traditional country, blues, folk, and jazz. She is a published songwriter, recording artist, and bandleader, singing and performing in western North Carolina for over 15 years. She is currently a member of the Adjunct Fine Arts Faculty at AB-Tech in Asheville, NC, and teaches old-time guitar at two regional JAM (Junior Appalachian Musician) programs, Haywood County and Buncombe County. Check out Cary's website: https://caryfridleymusic.com/
Maddy Mullany, Instructor
Maddy Mullany has been playing and performing fiddle tunes since the age of 9. Growing up in New Mexico, she learned a repertoire from her parents (both fiddle players) and local musicians; however, since moving to Asheville in 2012, she has been exploring Western North Carolina fiddle tunes as well as Round Peak styles. Maddy now plays banjo, fiddle and guitar in various bands. Maddy studied Art with a minor in Traditional Music at Warren Wilson College. Since getting her degree, she has been on several music tours internationally, including a fusion project with a traditional band in rural China, and a tour playing for the Bailey Mountain Cloggers in Colombia. These tours culminated in recorded albums of Jenny and the Hog Drovers, and the Georgia Horseshoes. Maddy is excited to be joining the staff of the Haywood JAM program. She teaches tunes learned from source recordings, by ear, with a focus on rhythm and bowing patterns.
Sarah Gilbert, Instructor
Sarah Gilbert began with violin, learning first in middle school orchestra and becoming a more serious student of classical music at the age of 16. She later abandoned music for many years after struggling with performance anxiety. Although singing and jamming were common occurrences in her household (mostly rock and roll and blues), her travels brought her to love traditional forms of music such as Irish, Cajun, Blues, and of course, Old Time. Sarah has toured with many groups across genres and can be seen fiddling with Jackson Grimm and the Bull Moose Party as well as recording, competing, and occasionally teaching. She has been enjoying the strong sense of community surrounding Appalachian music in WNC for ten years now and is currently nested in Waynesville, NC.
Clarke Williams, Instructor
Clarke Williams is a multi-instrumentalist based in Marshall, NC. While comfortable in a variety of styles, he has a strong focus on the musical traditions of Western NC. He has won awards and recognition for his fiddle, banjo and guitar playing at festivals and fiddlers conventions across the Southeast. Clarke has performed nationally and internationally, in bands such as Jenny and the Hog Drovers (with Phil Jamison), the Georgia Horseshoes and the French Broadcasters. Clarke graduated from Warren Wilson College, where he studied traditional music. In teaching, Clarke emphasizes developing musical intuition, active listening skills, and group 'jam' skills.