Smoky Mountains News
By Hannah McLeod
September 1, 2021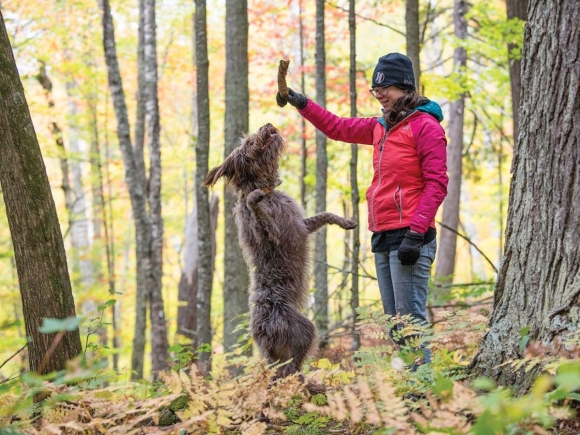 In June, Morgan Beryl took over as executive director of the Haywood County Arts Council. She has lived all over the United States and studied an array of subjects, but her love for the arts and the outdoors brought her to Haywood County.
Beryl is from Florida, where she invested in her creative self from a young age. Growing up, she regularly acted in plays alongside her mother. Later, she attended an arts high school where she studied theater. Around this time, her mother opened her own theater company, where Beryl learned the ins and outs of running a business centered on the arts.
"From the beginning, I had a connection to the arts and the nonprofit world through my mother," said Beryl.
From there she went on to New York University where she studied art therapy with a specialty in ceramics. Beryl has always been a tactile learner, working in film photography before ceramics. After NYU, she went on to work for nonprofits in sustainable agriculture, while she continued her education in ceramics at different schools. Between teaching ceramics, learning ceramics and working in sustainable agriculture, Beryl lived in Massachusetts, Tennessee, Illinois and California, where she interned at a regional planning agency.
Beryl went on to get her masters in community development, at the University of California Davis, and worked in the planning field for various governmental agencies in California and Colorado.
Like so many people who end up in these mountains, Beryl and her husband fell in love with the place. Avid hikers and all-around outdoors people, they had been interested in moving to Western North Carolina for quite some time. So when Beryl saw the opportunity at the Haywood County Arts Council, she couldn't resist making the jump.
"
Hiking is a definite passion. I love to be outside with my dog and just hearing the birds. I wake up early quite often before work and go hike the Blue Ridge, just a great way for me to start my day," said Beryl.
There are two important reasons Beryl circled back to a career in the arts — mental health and bridging the gap between people. With a degree in art therapy, Beryl believes that having a visual, tactile way to express oneself and one's experiences in the world helps to keep people safe, especially those who don't have another way to express themselves.
"It's not easy for everyone to talk about how they feel, or to go and exercise, to release serotonin. I think art provides another mechanism for people to have that kind of release. I also think that it can create shared experiences," she said.
Art has a way of connecting people, of creating a shared experience between people of vastly different beliefs or backgrounds.
"We all come from these different places and different upbringings and different ways of connecting with the earth and with each other and different politics," said Beryl. "I think if we can all look at a painting or a piece of work and feel the beauty and the effort and the thought that went into that, it's a way of finding a common ground."
Beryl is most looking forward to fostering community among artists in Haywood County and art lovers at large. She sees her position as a chance to really promote artists, as well as opportunities within the art scene.
Young creators are another passion for Beryl, who says she will be focusing on cultivating a lot of programs for Haywood County youth. Part of that work has already panned out in the form of the Junior Appalachian Musicians program, which offers traditional Appalachian music lessons to all students in grades 4-12, beginning Sept. 14.
"The thing that feels really important to me is creating a safe place for kids to learn a new skill, to meet other kids that have interest in the same type of hobbies and create a healthy lifestyle," said Beryl. "My hope is we'll keep them on the right path, you know, always give them something to rely on when they need it."
Haywood County Arts Council is always looking for volunteers. The storefront on Main Street is 100% volunteer run, and volunteers will be needed for the Smoky Mountain Bluegrass Festival fundraiser in October.
Artists interested in becoming an artist member of Haywood County Arts Council should contact the arts council or visit its website. The council does not turn anyone down who would like to become an artist member. There is no jury process.
"We want to create a community. We want to support people's desire to make art and share their vision with others. And as we're looking at our processes, I think that's a clear goal. Of course we want high quality work, but we also have a focus on creating a community and providing opportunity," said Beryl.